PS2Paper

PS2Paper is a utility to help manage the paper sizes used by the Level 2 PostScript printer driver supplied with RISC OS. Note that it is not required when using the Level 3 PostScript printer drivers from John Tytgat and Martin Würthner, as these handle paper dimensions themselves.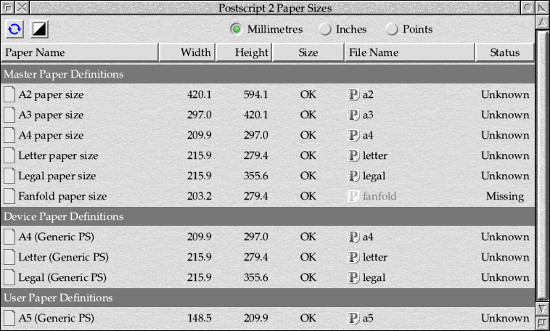 Manging the PostScript 2 paper sizes
As standard, the Level 2 drivers don't handle paper sizes well: they rely on small snippets of Postscript embedded in files deep inside !Printers to pass the dimensions on to the printer, and there are many subtleties to the way in which they work.
PS2Paper is designed to take control and make the paper sizes work as the user expects. It is especially useful when using the Level 2 drivers to generate Postscript files for use with a PDF creator such as PrintPDF and GhostScript.
Download PS2Paper
In order to use PS2Paper, you will require:
a minimum of RISC OS 3.10,
the 32-bit Shared C Library (version 5.43 or later), which is a standard part of RISC OS 5 and can be obtained for other systems as part of the System Resources download from RISC OS Open Ltd, and
the Nested Window Manager, which is a standard part of RISC OS 4, 5 or Six, or can be soft-loaded on RISC OS 3.
Version History
0.10 (29 October 2016)
First beta release, for feedback and comment.
0.11 (28 July 2020)
Update to first beta release, for feedback and comment.
Correctly ensure that a C99-friendly version of the Shared C Library is present (ticket #635).
Use ResConf-style system variables to identify resources.